Investigateur
Sorcier.
Willpower: 5. Intellect: 2. Combat: 2. Agility: 3.
Health: 6. Sanity: 8.
Après qu'au moins 1 horreur a été placée sur Agnes Baker : infligez 1 dégât à un ennemi dans votre lieu. (Limite d'une fois par phase.)
: +1 pour chaque horreur sur Agnes Baker.
"Je me souviens d'une autre vie. Une vie de sorcellerie et de conquêtes."
Magali Villeneuve
Boite de Base #4.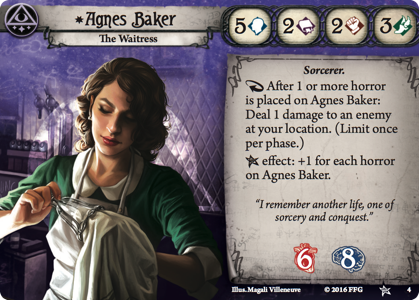 Investigateur
Taille du deck: 30.
Construction du deck: cartes Mystique () de niveau 0-5, cartes Survivant () de niveau 0-2, cartes neutres de niveau 0-5.
Exigences du Deck (ne comptent pas dans la limite de taille du deck): Héritage d'Hyperborée, Sombre Souvenir, 1 faiblesse de base au hasard.
Agnes Baker n'est peut-être aujourd'hui qu'une simple serveuse mais, dans une vie antérieure, en une époque oubliée de ce monde moderne, elle était une puissante sorcière. Tout commença lorsqu'elle découvrit un étrange artefact - une sorte de clé - dans le fatras poussiéreux du grenier familial. Quand elle le toucha, des souvenirs l'envahirent, accompagnés d'un mot : " Hyperborée ". Plus elle pénétrait dans les visions et les réminiscences de son ancienne vie, plus ses pouvoirs grandissaient... et plus cela devenait effrayant.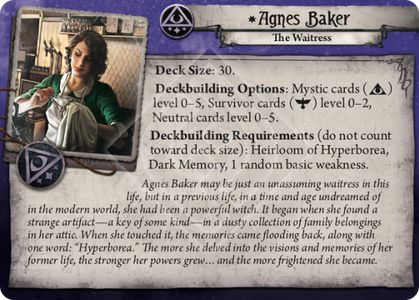 You cannot use Agnes' ability if you assign horror to an asset.
Last updated
Can I play with Agnes?
Give me the sense to wonder
To wonder if she's free
Give me a sense of wonder
If they've picked her before me
Give me the strength to hold my hand out
And pick that youthful face
Don't need xp to unlock this deck
Gonna play through it all
Break me into that bad place
[Chorus]
Can I play with Agnes?
She'd look so cool with a crystal ball
Can I play with Agnes?
Her evasion's rather small
Can I play with Agnes?
The players looked at me and laughed at me (ha ha) they said:
Can I play with Agnes?
Use blinding light, its fine, you`ll seeee
Woah, they said use blinding light you`ll see
I stared hard at the encounters
I said I'll Scry, I'll see whats below
We can prepare for this mischief
For two cards and the next
Oh then I fixed them with a freezing glance
You could see the fear in their eyes
I said you wanna know the truth son?
Well I'll show you the truth
Its an agility test needing five or higher
[Chorus]
Listen to me, said the players
[Chorus]
Can I play with Agnes?
Jesus, that is beautiful! —
lukas · 14
Can I hit the like button multiple times please? —
m3Ss1 · 1
Awesome Iron Maiden reference! —
Felagund · 441
Great. Now I gotta record a cover song and blast it everytime somebody pulls out an Agnes deck. —
H0tl1ne · 20
Thank you so much for this work of art! Up the Irons. —
humbas · 13