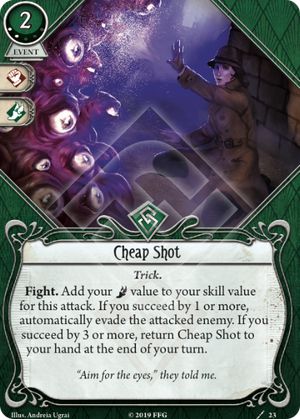 This finds an incredible home with Rita Young, particularly on standard difficulty.
By itself you get the utility of a nigh-guaranteed evade (8) that gives you the option to target low fight values when the evade gives you cause to sweat. For Rita that translates to 1 evade, 1 damage, +1 damage/1 free move. Solid efficiency and much stronger than her flat evade of 5.
With Crafty you're playing it for free and with pay-to-win capability. Boosting to 10 will reliably recur it on against most enemies, and can even safely recur while Drawing Thin against some.
And it even synergizes with Rita's pet quirky skill "Not without a fight!"! Where NWAF is normally a quasi-unexpected courage with mild boosting against multiple enemies, it truly shines with checks that use multiple attributes. With a single enemy, NWAF boosts Cheap Shot to an eye-watering 12. Essentially putting you beyond anything except an auto-fail for relatively little effort.
Is it cost-effective at melting down big health enemies? Absolutely not (that's Sweeping Kick), but Rita's real strength lies in racking up damage and managing enemies turn-by-turn and trick-by-trick. Cheap Shot (2) is the bedrock of this dynamic, reliable evasion boosting with damage included at an absolute bargain in terms of XP.
Cheap Shot is still a combat skill test only, so NWAF will only contribute its combat icons (see Lockpicks for more) —
dscarpac · 68
Having looked into it - what an odd thing. I'm guessing 'instead' effects (like most spells) would still allow you to use the replacement attribute, even if 'add' ones don't let you use the secondary. In any case, it's still a good synergy, if not Crazy Good. —
Maseiken · 1