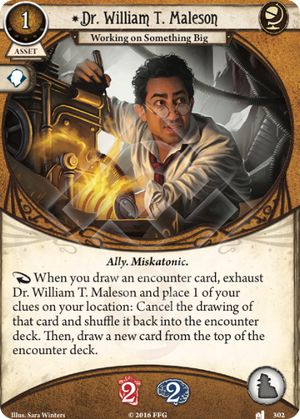 I'm sure this is obvious to experienced players, but as a pretty new player, I've benefitted from reviews that explain synergies and changes from newer cards, so I thought I'd add a little one here:
The Ally slot math is different since the release of Miskatonic Archaeology Funding, at least for Seekers. The 4xp permanent which lets you slot 2 additional allies with the Miskatonic trait.
That's two XP less than taking double Charisma, and usually doable after the first scenario. Go ahead, put three different level zero allies in your deck. They will only be dead draws during the easiest scenario in your game. Now you can have your cake and eat it, too.
Well, you can eat most of your cake, anyway. Slowly. The Funding restricts you to dealing one damage or horror to a Miskatonic ally per blow you are taking. This reduces his effective soak potential to 3, over three separate hits. Still a bargain! But bring along someone not funded by Miskatonic, or another soak, so that you have somewhere else to spread out the heavy damage hits.
The first scenario is definitely not always the easiest! I leave it as an exercise to the reader to figure out which campaigns I'm thinking about here... regardless, I'm not sure Dr. William T. Maleson is the best use of your extra ally slots. —
DjMiniboss · 44
I think if you want to go cheap in terms of resources spent, Dr. Maleson is your perfect no. 2 Miskatonic dude though. He's cheap, versatile and has the best cost/soak ratio and a potentially scenario saving ability. —
liwl0115 · 29