Derived from
None. Self-made deck here.
– Dear Chuck Fergus, I would like you to solve one problem for me.
– Ok, boss — said Chuck Fergus — what is your concern?
– I would like to get over there. It is 3 locations away from here.
– That is doable, Sir. — replied Chuck calmly with his deep, rusty voice.
– And I think we can save a little bit on this transport. Don't you think?
– No problem, Sir.
– And Chuck…
– Anything more, Sir?
– I would like to get there immediately.
– That can be arranged, Sir. — said Chuck thoughtfully. — Now, follow me!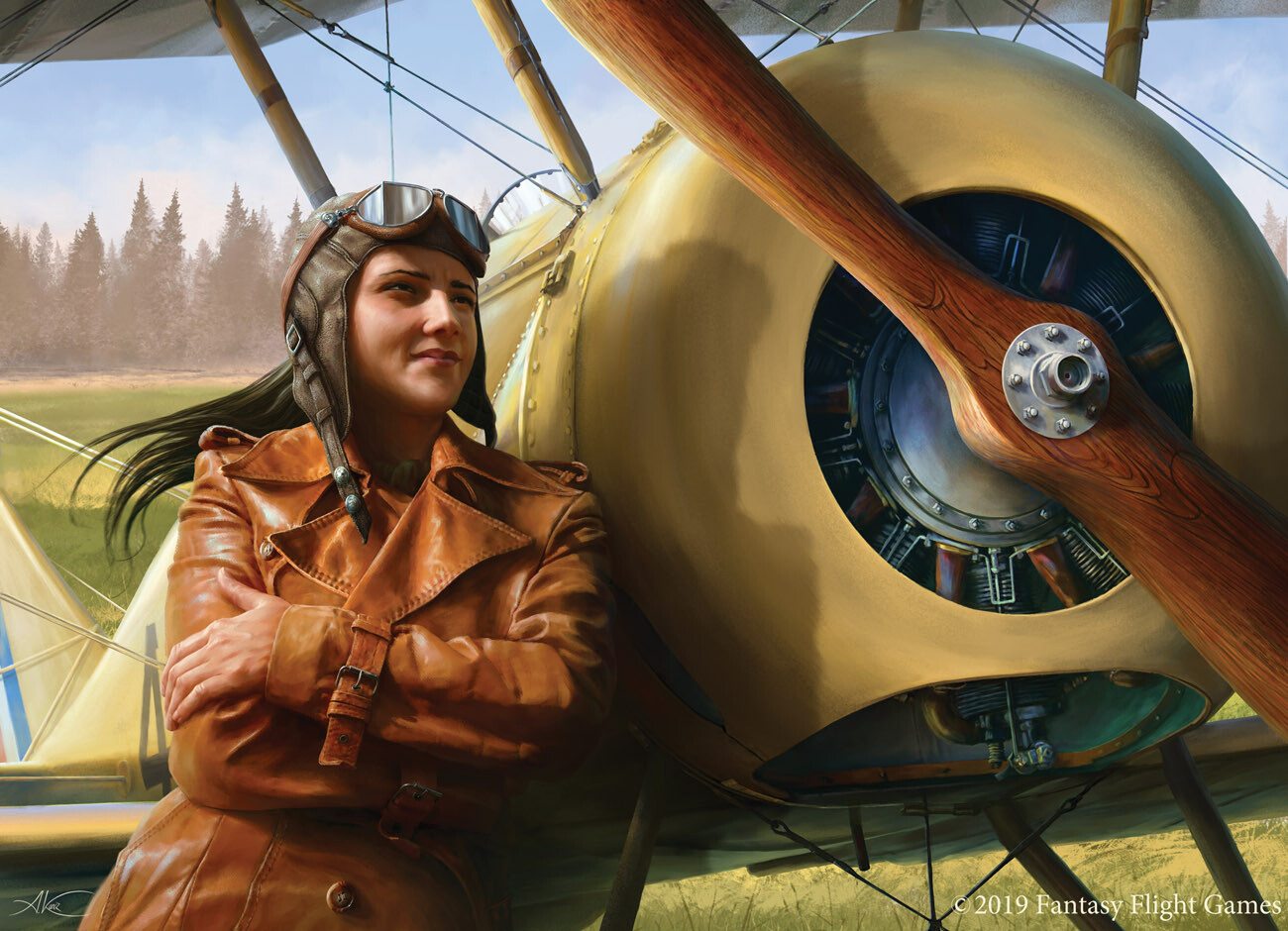 Credits: Aleksander Korcz, FFG'2019.
Content
Intro
Main Idea
Cards in The Deck
Understanding the Deck
Upgrade Path
Mythos
Final Thoughts
Hello there! May I present to you the deck I was recently entertaining myself during Path to Carcosa and some standalones for final tweaks here and there: a Chuck Fergus Agility Matters with Crystallizer of Dreams.
Enemy Management: ....... ⭑⭑⭑⭑☆
Clue Getting: ....................... ⭑⭑⭑⭑⭑
Consistency: ........................ ⭑⭑⭑⭑☆
1. Overview and Main Idea
Install Crystallizer of Dreams and Chuck Fergus (5) and watch the show! Dig up 3+ clues from a location and cycle through the deck quickly!
2. Cards in The Deck
Now, let's discuss each card one by one so we have a proper understanding what we have here.
2.1 Assets
Gives us +2 when the enemy is exhausted, which is the usual desired situation here. That puts us up to 5, which is pretty serviceable and deals +1 damage. Please, also note it is fast. You are a cluever and it is not your duty to deal with enemies, but hey, if you're evading enemies, you can scratch it without even spending an action. 4 bullets is enough to help your main fighter from time to time, which can lead to very good fluency and stability in the game.
staple. With 3 and 5 we have 8 skill value. Having many and icons, we are really consistent in getting clues from this card. Can be found with Backpack.
The main dish of this deck. After we play an event, we can put it under the Crystallizer of Dreams. Then, we can commit it to a skill test as if this event was in our hand. Now, take a moment to reread Winifred's ability. This ability not only gives us boost for the test, but also gets us cards. We'll discuss it later in details.
Very good card in this deck. Let's us help find our first Lockpicks or Crystallizer of Dreams. Here is what can be found in your backpack:
The driver boss. The star. The great hero. Please, do me a favor. Treat him with respect while playing. Talk to him, just like in the example at the top. He is not an ordinary Uber Driver. He's your best servant. You can play him for exchanging only 5 experience, 3 resources and an Ally slot.
Now, he cares about two types of events: Tactic or Trick. And when you would like to play such an event, you can decide to do the event:
well (you get +2 skill value),
cheaply (the event costs 2 resources less),
quickly (the event gains fast).
You can choose two. Yes, you can decide to do play Scout Ahead quickly and well. Then, let's say, you move to Graveyard. The +2 skill value still applies for the test there, since it is during the resolution of the event.
Also, another use. Note, that there is a player window after Hunter enemies move, but before they attack. Then you can play Sneak By / Scout Ahead / Breaking and Entering, make it fast and solve the problem.
The brain damage will gather all the time. You will fail brain tests and take horror. Moreover, you will cycle through this deck quickly (2 times in a scenario usually), so you will take some horror by this effect as well! If you won't need it, you can also give a hand to your teammate or just have a target for Crypt Chill. In the worst case, it commits for , which is barely useful, but sometimes is.
(Obvious) Tip: perform the test from this card's ability after you played your Pilfer (3), so you won't get it discarded by accident.
Draws cards and/or gains resources. Very important resource engine and we will discuss this later. But here please note, this card is fast.
2.2 Events
I will additionally discuss traits and symbols they commit for (see Crystallizer and Chuck).
Fast. This is actually a card that is for fun. Since you will manage to play it 2-3 times in a scenario, I think it gives a really solid value. Probably one of the last on the upgrade path, but hey, who does not want to play 3 more actions? Usually there is something to do. Play an asset, draw a card or even gain a resource. Or perform ability from a card in a threat area of an at your location. Your choice. You will see, what's needed.
Note: Don't put it under the crystallizer. It has no icons, therefore cannot be commited to a skill test. Once you put it under the crystallizer, it's dead.
With Chuck it can be fast, free or well-done. It is also another way of getting clues, just in case. Really good event in this deck, also because you can trigger Pickpocketings.
I love Easy Mark. Not only, because it's Emergency Cache in every possible way, but also can be made fast. Moreover, commits for both relevant symbols, so we can feed the crystallizer. Really invaluable in this deck.
Pilfer (3) (Trick, )
Again, we love tricks. Usually you want to have it cheap and well-done to save 2 resources and have a huge chance to replay it next round. This is the time to (over)commit two different by name cards from under the crystallizer or your hand. Play, commit, repeat! Succeeding by at least 2 shouldn't be a problem in this deck.
Note it can be made fast. So with Chuck Fergus it's better in every way. You cannot push somebody, but – let's face it – you are too arrogant to take care about others! I wasn't a fan of this card at the beginning, but here it shines! And even commits for two foot icons!
Some people say this card is not so good. Maybe. But here it shines. It's soo, soo good. You get 2 resources and evade an enemy. You can still commit cards and Pickpocketings can trigger. You only need an enemy. Hold one for yourself, if you can. One, not two. Two is too much. It is hard to pickpocket a guy when somebody else is watching. One guy is enough.
Again, it can be made fast, even in the player window after a hunter enemy moves, but before it attacks.
2.3 Skills
Now, here is the fun part! Skills. Everyone loves skills. Especially Winifred. You want usually different by name and usually two committed to a test you perform. You mainly use icons, but icons are so important from time to time. Wild icons can be committed to any test (even resource tests, but we don't do that here). This allows to cycle through the deck quicker.
Your most fun resource engine. Not most reliable, most fun. Of course, you can have 8:2 in a test and still draw . It happens, but it is not that likely. Maybe it's obvious, but note: this card cannot be commited to Lockpicks test, since it is an investigation and therefore a test. Only (and ) icons can be committed.
Now, because of this card, please try to have at least 2 (or better 3) resources in your bank just in case you draw watch this. It is unsatisfying having Watch This in hand and 1 resource in the resource pool.
Game designer to graphic manager: how many icons can we fit on one card so it can still look good?
It is so much better than its downgraded version. It not only replaces itself, but also draws another card. Also, that another icon is really a solid upgrade.
Very useful card. I would throw in the second copy. I didn't to fit under the 39xp threshold for standalone scenario. If you want, put a second copy instead of Quick Thinking.
An action from time to time. Here note that it does not have to be you that performs the test. It can be mystic with their 123 willpower. Then you still have that action. Also, wild icon is still in price in this deck. With taboo it gains "Max 1 per round". This means you can still commit the second Quick Thinking to a test, but you won't get that additional action. If you play without taboo, don't worry about it.
Here it is also a flex spot for some card swap. Throw in some emergency Backstab, Perception, Savant, Intel Report or Nimble. Have fun. Or "You handle this one!". I think now is also a moment to say why I didn't include "You handle this one!" in this deck. The reason is that I didn't see any such value for giving an encounter card to my fighter who will probably also fail the brain test. I had two copies of this card at the start of the campaign, but I quickly realized that I only commit it for a icon.
3. Understanding the Deck
You already mastered the details of each separate card. Now, let's discuss the details of the strategy and some more complex parts.
3.1 Setup and Mulligan
Hard Mulligan for:
In second order:
Events now don't matter. At first you want to play your assets and gain some money. Take your time to setup. Once you get online, no-one will stop you and you will overcome game's tempo easily. Take time to draw some cards, if needed.
Your full board setup includes: Crystallizer and Chuck Fergus. Then Pickpocketings. That's all. Maybe Lockpicks. So setup is quite fast.
3.2 Resource Engine
You can get money from
3.3 Card Draw
At the beginning of the scenario you will probably just draw cards. If you can, don't commit a single card. Commit two. Even if it is the upgraded Pilfer, you don't have money right now. Commit it. You want to get Pickpocketings, Lockpicks, Chuck Fergus and Crystallizer online before you decide to play Pilfer.
Also note, that Winifred's Ability is in a player window. So, let me remind you the Skill Test Timing:
The test begins
Player Window
Committing cards
Player Window.
Wini's ability must be done in a player window. So if you draw a card from it, this means you cannot commit it. Even if it is the Arrogance. It is too late.
Here are the cards that can draw you cards
Since your surname is always online (well… almost…), this engine is almost always working. Through out each card that is not needed right now. Pickpocketings are fast and they pay off pretty quickly! Manual Dex is such a good card.
3.4 Example situation
So here is a really doable situation that I had several times in during the campaign.
You have Pickpocketings, Chuck and .25 in play
Evade with Sneak By (+2 resources) as quick and well.
You commit Manual Dex, and Watch This with 3 resources.
You draw 1 card from ability.
You pass usually by >2 (having 11)
Manual dex: +2 cards
Watch this: +6 resources (brutto: +3)
Pickpocketings: 2 resources and 2 cards
.25 automatic: also fight an enemy
you commit Quick Thinking and a spare copy of Chuck Fergus
you draw another card from Wini's ability
you shoot the guy for 2 dmg and gain an action
so by now you gained 7 resources, an action, 6 cards, dealt 2 dmg and evaded an enemy while still not spending any action.
at this point your friends at the table get mad why your turn takes so long
they ask (with hope in their voice): how many actions you still have
and you play Ace in the Hole
and reply: still… seven!
they got mad at you and don't reappear for the next play.
This combo is really possible. I did it a couple of times in that campaign. With that in mind… Guardian of the Crystallizer is not an issue anymore. It's an opportunity.
4. Upgrade Path:
Starter deck can be found here. I moved the whole upgrade path there as well. Purchase Adaptable if you have a campaign-dependent knowledge to through a pair of Fine Clothes or Ethereal Slip. I used Adaptable during the campaign to tweak here and there every time, so I won't paste the deck I started with, but what I what I would like to start with.
5. Mythos
Usually, you pray for en enemy to have something to evade and then be killed by your main fighter. If you draw treachery, then you will probably fail test. Just accept you fail and take horror/damage. Maybe you will need to kill Chuck to renew some soak. Probably. But he'll come back soon.
If you are more frightened by the mythos, consider "You handle this one!" instead of Quick Thinking. But I advise you to learn to accept you tank in mythos. To your advantage, you can speed the game pretty quickly to end game sooner before it kills you with mythos.
6. Final thoughts:
It is a really fun deck! It was a blast to play it! It should shine in 3 players. I played it in 2p, so many times one clue from Pilfer was lost, but it's ok. I also tried a different variant with recurring Backstabs, but there were not so many synergies as here. Here it works, because you get icons from Easy Marks.
I would like to thank Nic M. for deck inspiration and detailed discussion about it. Thank you! ♥
I hope you can have a ton of fun with this deck as well! If you liked the deck, the description or both, I'd appreciate if you press the ♥ or ★. I will smile if you do that! :)
26 comments
Mar 04, 2022
Mar 04, 2022
Mar 04, 2022
Mar 04, 2022
Mar 04, 2022
Mar 04, 2022
Mar 04, 2022
Mar 07, 2022
Mar 07, 2022
Mar 07, 2022
Mar 08, 2022
Mar 08, 2022
Mar 08, 2022
Mar 08, 2022
Mar 16, 2022
Mar 16, 2022
Apr 08, 2022
Apr 08, 2022
Apr 19, 2022
Apr 19, 2022
Apr 26, 2022
Apr 26, 2022
Apr 26, 2022
May 12, 2022
May 13, 2022
May 13, 2022