Soutien
Objet. Relique.
Cost: 2.
Test Icons:
Inclinez la Relique des Ages: effectuez un test de ou de (4). En cas de réussite, retirez 1 fatalité de n'importe quelle carte en jeu. (Max d'une réussite par partie.)
Après avoir passé autant de temps avec la relique et en avoir appris davantage sur ses créateurs, vous comprenez maintenant sa fonction. Le destin de la Grande Race de Yith est scellé dans le temps... mais il peut être contourné.
Sebastian Rodriguez
Les Profondeurs de Yoth #303. The Depths of Yoth #36.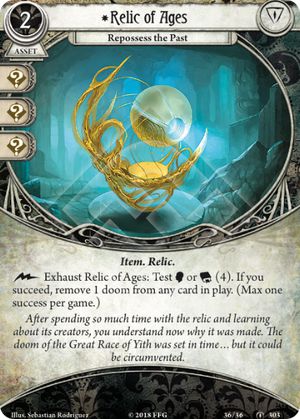 No review yet for this card.