Lieu
The sounds of conversation and warped music become muffled as you approach a lonely section of the manor. Leading to the door of the gallery is a long hall adorned with many expensive paintings, including one of Mrs. Dumaine herself.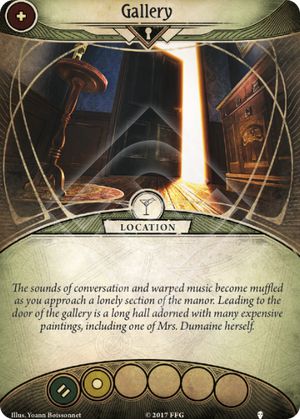 Lieu
Shroud: 1. Clues: 0
Forced - After you end your turn at the Gallery: Test (2). If you fail, place 1 of your clues on the Gallery.
Somehow, the guests in the gallery are still interested in the art on display, even though someone has vandalized all of the paintings and statues.
Mark Molnar
La Route de Carcosa #73. The Last King #13.
No review yet for this card.