Intrigue. Stage 1
Doom: 8. Clues: –
YOU ARE AT A CROSSROADS.
REFLECT ON THE CHOICES YOU HAVE MADE.
YOU SHALL BE CONFRONTED WITH A TERRIBLE DILEMMA.
Lenka Šimečková
Union et Désillusion #239. Union et Désillusion #2.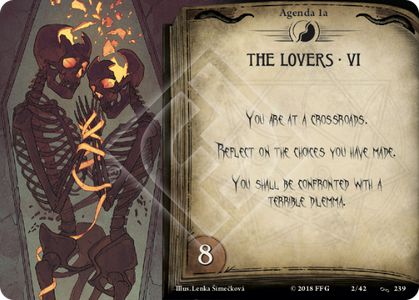 Intrigue
The mist obscures the moon, plunging the woods into darkness. A flock of birds suddenly scatter from the treetops.
Shuffle the encounter discard pile into the encounter deck.
---
Check the "Missing Persons" section of the Campaign Log. If at least 1 character was "taken by the watcher," read the following:
Beyond the spectral mist, an awful scream resounds through the woods. It is distant, as though heard through a pane of glass, but distinct enough for you to know it is real.
For each character who was taken by the watcher, place 1 resource on The Spectral Watcher, as a stolen soul (even if The Spectral Watcher is currently out of play).
Until the end of the scenario, The Spectral Watcher gains the following text: "For each stolen soul on The Spectral Watcher, it gets +1 fight and +1 health." Keep this card next to the agenda deck as a reminder, and advance to agenda 2a.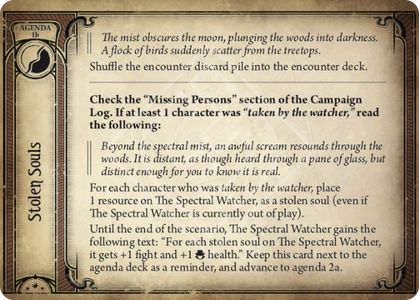 No review yet for this card.