Lieu
It was as though a house, launched by an avalanche, had slid down through the tangled growths of the almost vertical slope.
—H.P. Lovecraft, "The Dunwich Horror"
Lieu
Dunwich.
Shroud: 2. Clues: 2.
Each investigator in Whateley Ruins gets -1 .
: Test (4). If you are successful, move a Brood of Yog-Sothoth enemy 1 location in any direction.
The ancient and arcane tomes found within the Whateley Ruins hold the secrets to manipulating the monsters.
Dimitri Bielak
Aux Frontières du Visible #251. Undimensioned and Unseen #16.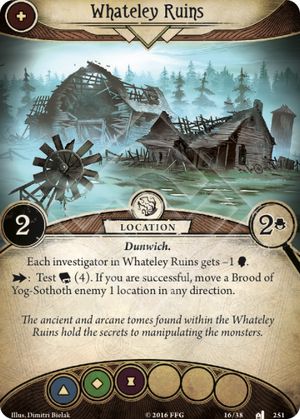 No review yet for this card.