Ennemi
Construct. Serpent.
Fight: 4. Health: 5. Evade: 1.
Damage: 2. Horror: –.
Spawn - Nearest location with at least 1 clue.
Aloof.
While Serpent Guardian is unengaged, its location gets +2 shroud.
While there are 3 or more vengeance points in the victory display, Serpent Guardian loses aloof and gains hunter.
Matthew Cowdery
Renouveau - La Civilisation Oubliée #79. Haine Venimeuse #4.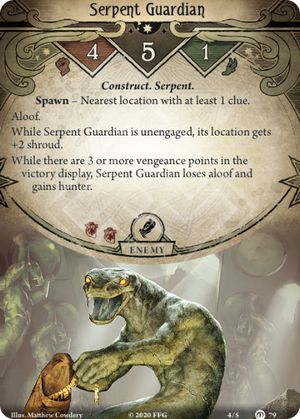 No review yet for this card.