Perform the setup as indicated in The Dunwich Legacy Campaign Guide, with the following exceptions:
- When gathering encounter sets, also gather the new encounter sets for Return to Where Doom Awaits shown here.
- Set Naomi O'Bannion aside, out of play.
(Continued on reverse side.)
Renouveau L'Héritage de Dunwich #47. Return to Where Doom Awaits #1.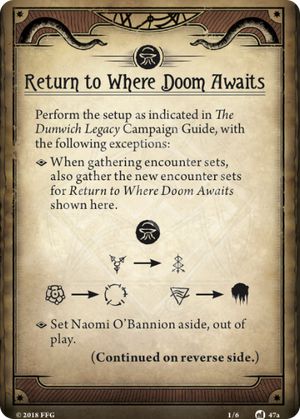 Return to Where Doom Awaits - Back
Scénario
- Replace the original Base of the Hill and Ascending Path with the new Base of the Hill (Warped and Twisted) and Ascending Path (Warped and Twisted).
- Add the new Diverging Path and Altered Path to the original Diverging Paths and Altered Paths. Then, randomly remove 1 of each from the game. (You will remove an additional copy of each during standard setup.)
- Check Campaign Log. If Naomi has your back: Instead of gaining clues from the token bank via the effect from Part 1 in the Campaign Guide, the lead investigator may choose an investigator to add the set-aside Naomi O'Bannion to his or her deck. This card does not count toward that investigator's deck size.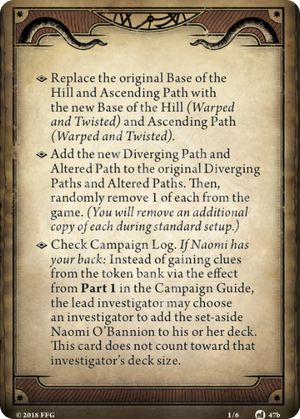 No review yet for this card.