Perform the setup as indicated in The Dunwich Legacy Campaign Guide, with the following exceptions:
- When gathering encounter sets, also gather the new encounter sets for Return to Extracurricular Activities shown here.
(Continued on reverse side.)
Renouveau L'Héritage de Dunwich #12. Return to Extracurricular Activity #1.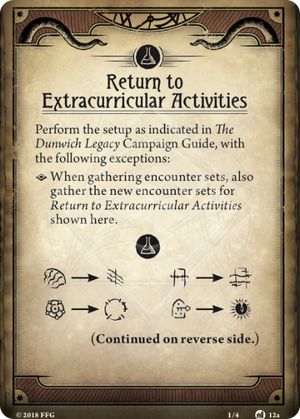 Return to Extracurricular Activities - Back
Scénario
- Randomly choose between Orne Library and Warren Observatory. Put the chosen location into play, along with the rest of the starting locations. Remove the other location from the game.
- If you have completed Return to The House Always Wins, search the encounter sets for 1 copy of Enthralled Security Guard, and spawn it at the Administration Building.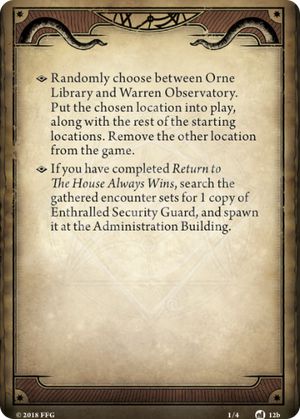 No review yet for this card.