Today, you depart from your camp in order to find the ruins Alejandro seeks. That is, if they even exist…
Objective - When the round ends, investigators at any non-Campsite locations may spend the requisite number of clues, as a group, to advance.
Andreas Adamek
La Civilisation Oubliée #46. Une Contrée Sauvage #4.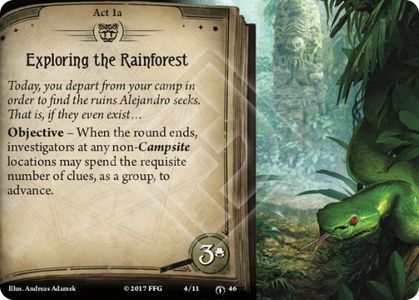 Acte
As you explore the dense jungle, you are suddenly confronted by several natives. At first glance, they appear to be warriors of an Aztec city-state: perhaps even the one you seek. But how could they have survived undiscovered for this long?
Even with Alejandro's notes, you are barely able to translate what the warriors say, only that they call you "intruder" and implore you to leave the jungle at once. You try to explain that you are searching for the "Eztli," which causes them to murmur and debate among themselves. Finally, one of them speaks to you in rudimentary Spanish. "Ichtaca will know what to do with you, intruder." He blows on a decorated clay ocarina, producing a shrill note that echoes throughout the jungle. The warriors depart as suddenly as they arrived.
Put the set-aside Ichtaca enemy into play at the lead investigator's location.
Shuffle the encounter discard pile into the encounter deck.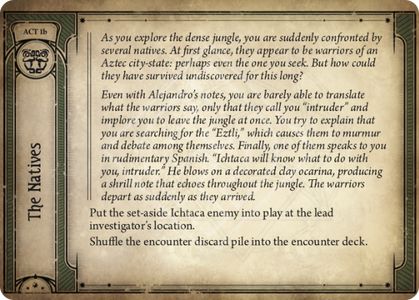 No review yet for this card.